Hurricane Sally has brought "historic and catastrophic flooding" to the southern US as it inches ashore.
The storm's sluggish speed, roughly 5mph (7km/h), increases its capacity for destruction, pummelling coastal states with heavy rain.
The National Hurricane Center (NHC) reported flooding from Tallahassee, Florida to Mobile Bay in Alabama.
It also warned of a "life-threatening" storm surge and river flooding inland as far as Georgia.
Hurricane Sally is one of several storms in the Atlantic Ocean, with officials running out of letters to name the hurricanes as they near the end of their annual alphabetic list.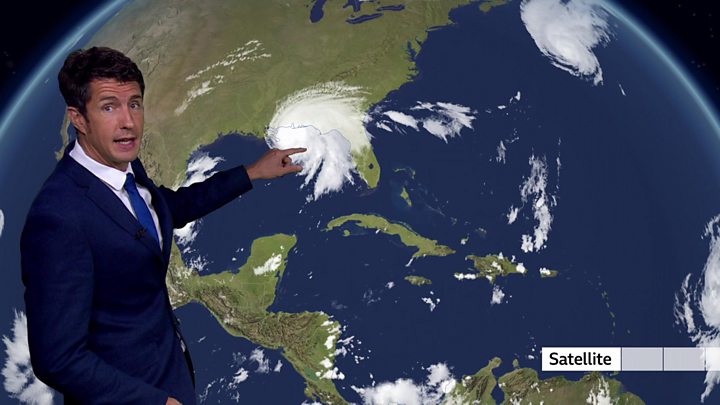 Alabama, Florida and Mississippi have all declared states of emergency. Louisiana Governor John Bel Edwards, whose state is still recovering from Hurricane Laura last month, tweeted on Monday to warn residents to "be smart and be safe".
White House press secretary Kayleigh McEnany said on Wednesday that the administration is "fully engaged" as the storm continues to batter the Gulf Coast.
"It's safe to say the White House has been in active contact with all of these governors," she said on Fox News.
What's the latest?
The latest NHC update says Hurricane Sally made landfall near Gulf Shores, Alabama at 0445 local time (0945 GMT).
The centre has downgraded the storm from a Category 2 hurricane to a Category 1, but cautioned that the threat from heavy rain and "catastrophic" flooding remains. A hurricane advisory is currently in place from the Alabama and Mississippi border to northwestern Florida.
The hurricane has sustained winds of 80mph (130km/h) and is moving north-northeast at 5mph (7km/h), up from 3mph (5km/h) earlier on Wednesday.
Sally's plodding pace may be a consequence of climate change, experts say. A 2018 study in Nature magazine found that translation speeds of all hurricanes and tropical storms had decreased by 10% between 1949 and 2016, a drop that was linked to an increase in total rainfall.
"Sally has a characteristic that isn't often seen, and that's a slow forward speed and that's going to exacerbate the flooding," NHC deputy director Ed Rappaport told the Associated Press.
Rain appeared to fall sideways in Alabama, which led to submerged roads as the storm inched ashore. Other areas along the coast were also affected, with beaches and highways swamped in Mississippi and low-lying properties in Louisiana covered by the rising waters.
According to the website poweroutage.us, more than 200,000 homes and businesses in Alabama and Florida had reported power cuts by Wednesday morning.
In Pensacola, Florida, Escambia County Sheriff David Morgan told US media that a section of Three Mile Bridge is missing as a result of the storm, which has turned streets into choppy rivers. It is the largest physical damage so far from Hurricane Sally.
Meanwhile, Tim Parker, manager of Gulf Coast Gator Ranch & Tours, told local TV station KITV that he was anxious about an initial predicted storm surge of up to 9ft (2.7m) in his home of Moss Point, Mississippi. He feared a repeat of Hurricane Katrina's storm surge in 2005, in which roughly 250 alligators escaped their enclosures.
However, as surge predictions have dropped, he has felt some relief.
"Now they're talking about maybe two to four feet, which won't be bad here," Mr Parker told KITV. "My parking lot might go under water. Our office might partially go under water, but it's not going to be too bad."
Hurricane Sally arrives just weeks after Hurricane Laura killed at least six people in the state of Louisiana.
Winds of up to 150mph (240km/h) caused severe damage, with power cuts to more than half a million homes and a chemical fire from an industrial plant.
But the feared 20ft (6m) storm surge was avoided as the hurricane, the state's biggest, tracked further east.
More storms on the horizon
In addition to Sally, there are four other tropical cyclones – Paulette, Rene, Teddy and Vicky – swirling in the Atlantic Ocean basin.
If only one more storm is officially named – Wilfred has already been chosen – meteorologists will run out of preselected names for the rest of the year and so will begin naming new storms after the Greek alphabet.