Nigel Blunden, former NSW premier Mike Baird's then director of policy, says he only became aware of the fact that former NSW Liberal MP Daryl Maguire and former premier Gladys Berejiklian were in a years-long relationship when Ms Berejiklian gave evidence at the ICAC last year.
He said he had "absolutely no knowledge" of the relationship before then.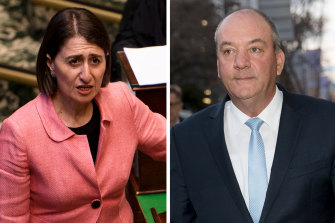 Asked about whether he would have done anything differently if he had known Mr Maguire was seeking government funding for a Wagga Wagga gun club, the Australian Clay Target Association, while Ms Berejiklian was treasurer and chair of the expenditure review committee, Mr Blunden said: "I suspect I would have sought advice from somebody, maybe DPC [Department of Premier and Cabinet] … about whether there may have been a conflict of interest involved."
He said "yes, I suspect it would have had an impact" when asked if it would have altered his advice to Mr Baird about the funding proposal, although he added his advice was already "strong" and was not supportive of it.
As we've reported previously, Mr Blunden said in a note to Mr Baird in December 2016 that the proposal "goes against all the principles of sound economic management".
Mr Blunden appeared at a private hearing at the ICAC on April 28 this year.
He was also asked in that hearing if he would have acted differently if he had known about the Maguire-Berejiklian relationship.
"I think that our office would have viewed any approach from the member for Wagga Wagga in a vastly different way," he said at the time. "I'm meant to know these things in my job and I had no idea."
He said in the private hearing "it's a no-brainer that it's a perceived conflict" and he found it "odd" that the relationship was not disclosed in this case.
Asked about that evidence in the witness box today, Mr Blunden said the "perception of conflict" would have informed his response if he had known of the relationship. He agreed he would have wanted to know "if it had an impact on proposals being put forward, yes".
He said today he was not aware that Mr Maguire spoke directly to Ms Berejiklian as treasurer about the funding proposal but he was aware that he spoke to her staff.
Neither Mr Baird nor Mr Blunden is accused of wrongdoing.