Federal Treasurer Josh Frydenberg says people in Western Australia will be "disappointed" by the decision to delay the re-opening of the state amid the Omicron coronavirus outbreak in the eastern states.
Speaking on Channel Seven on Friday morning, Mr Frydenberg hit back at Premier Mark McGowan's decision to keep the border shut, adding that Omicron is less severe and there needed to be a shift to live with the virus in a safe way.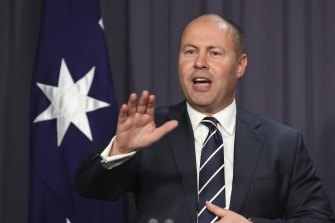 "This is a decision that the Western Australia government themselves have taken and one for them to explain," he said.
"But obviously any people in Western Australia would be disappointed with the decision. And they will be asking if not now, when."
He said it was a state issue and a decision of the state government, but the people in Western Australia had been "fantastic" with a double-dose vaccination rate approaching 90 per cent of residents aged 12 and up.
"The Morrison government has provided them with an unprecedented amount of economic support," he said.
Shadow Treasurer Jim Chalmers told Channel Nine this morning the decision was a "difficult" one for the Premier.
"Clearly, he has looked east and seen what are the costs and consequences to the economy and to communities when the virus is running rampant, without the Prime Minister having done his job on rapid tests and boosters and all the rest of it," Dr Chalmers said.
WA Premier Mark McGowan announced in December that the state's borders would reopen to the rest of Australia and the world on February 5, barring "some unforeseen emergency or catastrophe".
That plan would have allowed double-vaccinated interstate and international travellers to return to the state next month without completing quarantine, although COVID testing requirements were foreshadowed.
Last night, Mr McGowan said Omicron "is a new state of emergency" and the reopening would be delayed, as the eastern states recorded tens of thousands of cases of COVID-19 a day and hospitals came under growing pressure.
WA's reopening was previously tied to a double-dose vaccination rate of 90 per cent of residents aged 12 and up.
Mr McGowan flagged a new third dose target last night of 80 to 90 per cent of eligible West Australians, and said "a whole range of things" would be required before WA would reconsider reopening to the rest of the world.